Different window treatments are designed with different materials Blinds' quality and features are determined by the fabric used to make them. Choosing the best fabric for roman blinds depends on your needs and requirements.
For example, if a fabric is designed with thick fabric, then it will give you privacy and block the sunlight coming into your room.
Various types of fabrics are used for making roman blinds but linen, voile, and cotton are the most popular among all of them. The fabric, like upholstery and faux leather, is not used mostly because of their thick/heavy fabric that makes it difficult for a blind to open and close them.
To help you in making the right decision, Roman Blinds AE brought this guide for you. In today's article, we will discuss the characteristics of the best roman blinds fabric only.
How To Choose The Best Fabric For Roman Blinds?
Each fabric has its own benefits and drawbacks. For example, some fabrics are well suited for temperature control and some are best to be installed in wet rooms. You must visit our storebecause we offer the best fabric for blinds
If you want roman blinds that require low maintenance and also last for a long time, you must select the blinds that are created by using the best quality fabrics fitting that are highly durable.
Choose the best fabric for roman blinds that can block out the light, maintain the temperature and also give you privacy from outside. There are many types of fabric that can be used for roman blinds, but the 6 most widely used fabrics are given below:
1. Voile Fabric For Roman Blinds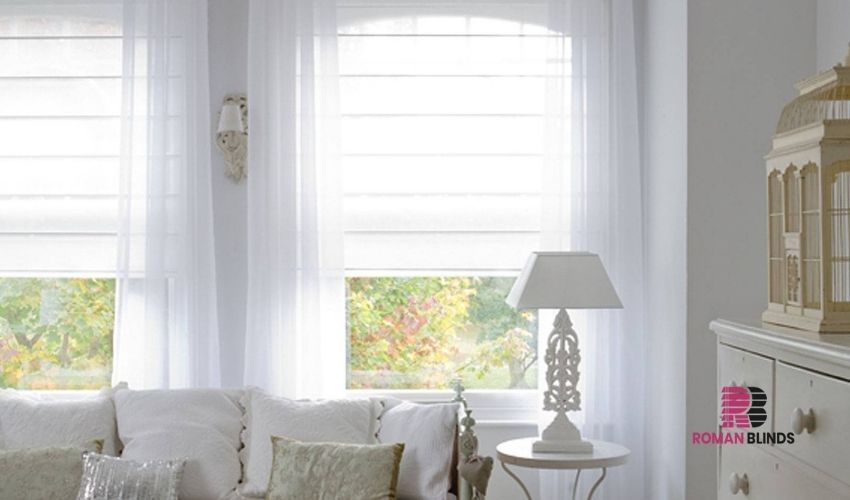 Voile is a lightweight, sheer and breathable fabric. It comes at the top position when you want to let the maximum light and air come into your room. It also offers a little privacy when you need it. It is one of the 100% Quality fabrics for roman shades.
Roman blinds made up of voile fabric are best for the areas which didn't have to face the streets and the rooms that didn't require too much privacy. Its lightweight fabric gives amazing decor to the interior of your home, especially to the small rooms. Consider this fabric Choosing fabric for Roman blinds.
2. Cotton Fabric For Roman Blinds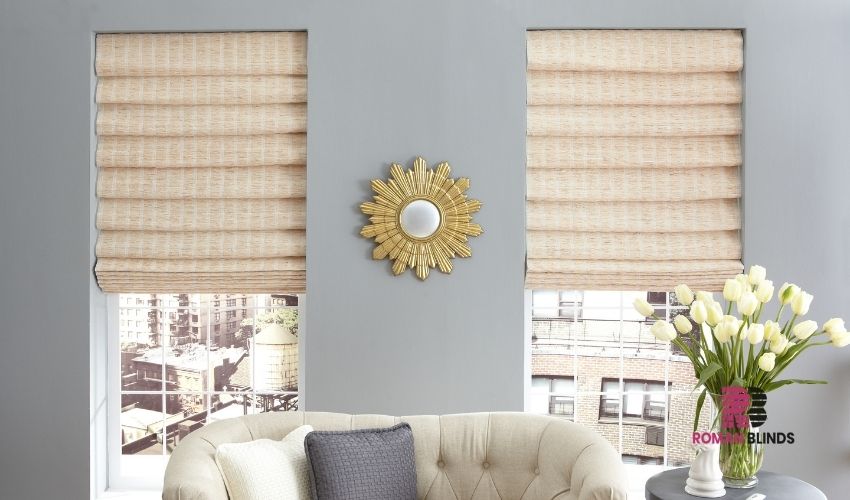 It is another most commonly used fabric for designing roman blinds. Manufacturers prefer to use the medium-weight cotton fabric for making roman blinds.
The weight of the fabric guarantees the durability of blinds and also requires low maintenance as compared to other lightweight fabrics like silk and voile. You can easily clean and wash the roman blinds that comprise cotton fabric.
This fabric would be the best choice for the people who want blinds that give functionality as well as require low maintenance. The cotton roman blinds help you give privacy and blackout the sunlight.
3. Chenille Fabric For Roman Blinds
Chenille fabric is one of the best fabrics for roman blinds that are designed with the combination of olefin, rayon, and cotton, and these are also twisted together. It is a versatile fabric that gives a unique look from every angle when you see it. It also gives a glittering effect when installed in the room.
Roman blinds manufactured by using chenille fabric give a soft, decent, and elegant touch to the interior of your home. This is also a highly durable fabric for roman blinds as compared to the other ones.
It also provides great insulation functionality that helps in maintaining the temperature of your room.
4. Patterned Fabric For Roman Blinds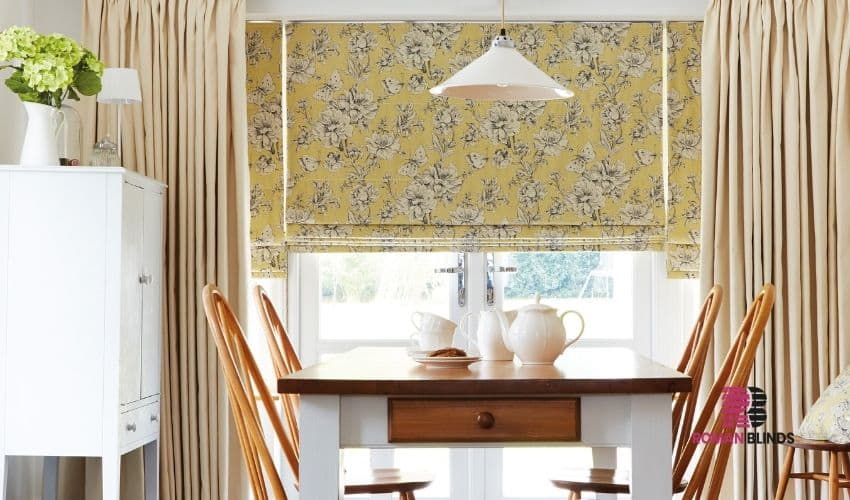 Roman blinds come in a wide range of colors, but you can also get them in the patterned fabric. You can choose the best fabric for roman blinds between the endless options of prints as per your requirements of matching them with the decor of your room.
The patterns on these roman blinds are designed on polyester and cotton material. These roman blinds also come in woven fabrics. They considered being the best choice for large windows like bay windows. These blinds are also best for installing in the bathroom and the other small areas of the home.
5. Linen Fabric For Roman Blinds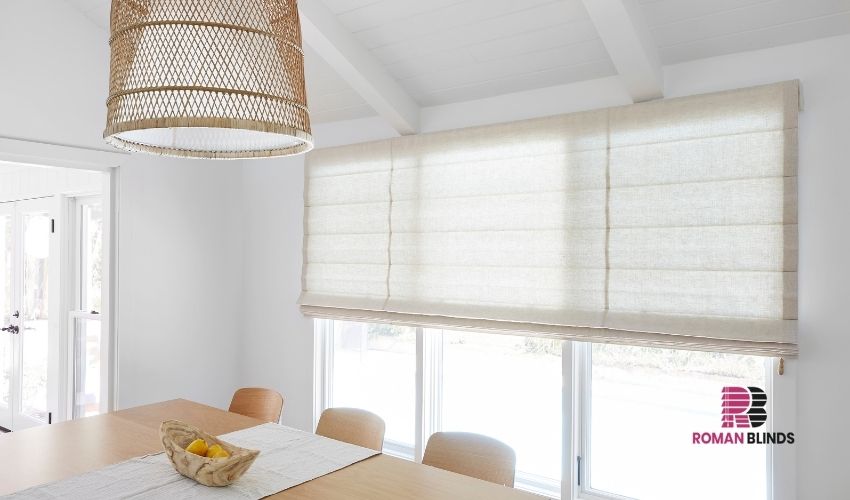 The linen roman blinds are designed in neutral shades like beige and white for giving a contemporary look to the decor of your home's interior. It can be considered as the best fabric for roman blinds because it gives an airy atmosphere and would be the best choice for installing on humid/wet surfaces.
They are also mold and mildew-resistant. These blinds are ideal for use in bathrooms, kitchens, porches, and entryways because of their best quality fabric. Linen fabric also filters the light through them and lets it come to your room.
Choose this fabric if you want to get an airy and bright atmosphere for your room. The roman blinds manufactured with linen fabric are also highly durable and not susceptible to tearing.
6. Faux Silk Fabric For Roman Blinds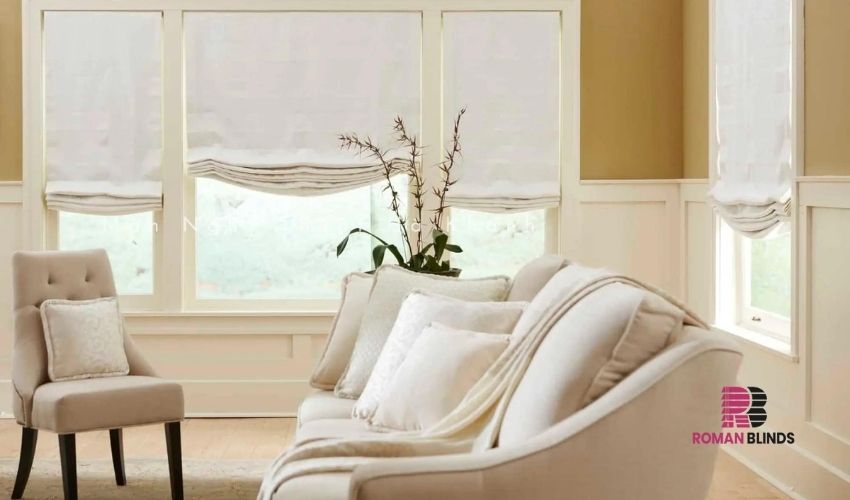 Faux silk is considered best because it gives an elegant and sophisticated look to the interior of your room. It is the most widely used fabric for manufacturing roman blinds. This fabric is made with polyester and is stronger and more durable than silk fabric.
These blinds are best when your focus is on getting the luxurious blind that also has the best functionalities like giving privacy, blackout the light, and helping in maintaining the temperature of your room.
Conclusion
This is all about the best fabric for roman blinds. We have discussed every aspect of all the fabrics. I hope this article will help you make the right decision and you can select the right fabric for roman that meets your requirements and add beauty to the interior of your home.
If you got nothing or have any queries regarding this, then you can ask by posting a comment. The professionals of Romanblinds.aewill help you with this regard because our experienced staff is best at guiding you to solve a problem in a perfect way.