Different types of blinds are available on the market for installing in the different areas of your home. Blinds are manufactured by using different materials, and this will describe the quality and functionality of the blinds.
Choose the best blinds for your living room may confuse some people because of the huge options of blinds available. You need to get the blinds for a specific area of your home. For that purpose, you must know the main purpose of getting the blinds for the living room.
Through this article, we will help you with how to choose the best blinds for your living room. Today, we will discuss the main purposes of installing blinds in a living room, which will help you decide which blind will fulfill your requirements.
Outstanding Tips To Choose The Best Blinds For Your Living Room
The first reason for getting the blinds is to get privacy and control the light. Apart from this, some other factors are also necessary for how to choose the best blinds for your living room. These necessary factors are discussed below.
1. Determine Your Needs
First, analyze for which purpose you are going to choose the blinds for your living room. If you only want to add style and luxury to your interior decor, then you can install vertical or roman blinds.
Both these blinds are best at giving your home an aesthetic, modern, luxurious, and spectacular appearance that can attract anyone.
If you want to get complete privacy and the best light-controlling blinds, then consider choosing blackout wooden or vertical blinds. Both types of blinds help you cover your windows completely and save you from the eyes of outsiders.
2. Consider Your Window Shape And Size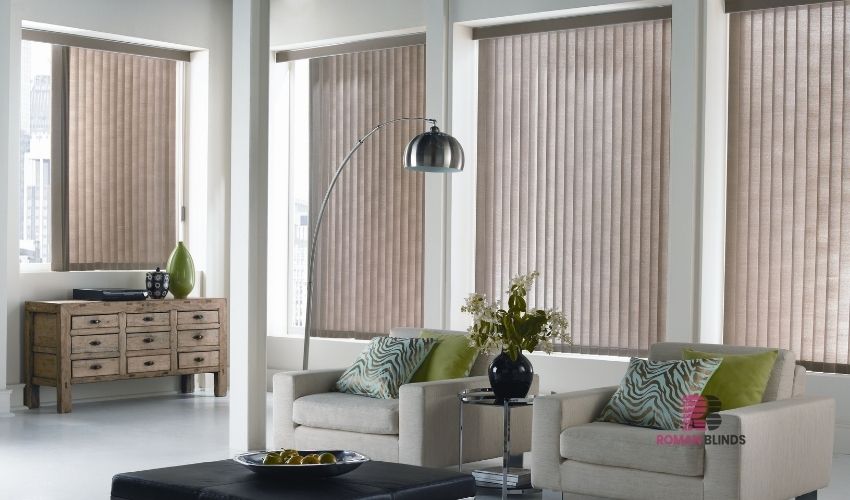 The style and size of your window play an important role when selecting the blinds. Always try to select blinds that can completely cover your living room windows.
We all know that the living room has large-sized windows, and to cover the large-sized windows, you need to get customized blinds as per your requirements. Otherwise, the vertical would be the perfect solution for large windows. They come in a vast variety of sizes, design patterns, and styles that can charm the interior of your home.
3. Consider The Material
The material from which the blinds are manufactured defines the overall functionality and quality offered by them. Blinds comprise different materials like fabric, aluminum, leather, wood, bamboo, faux wood, vinyl, synthetics, metal, plastic, etc.
Always try to get those blinds that are manufactured with materials that offer durability, privacy, control over light, insulation, and beauty to the interior of your home.
4. Choose The Right Style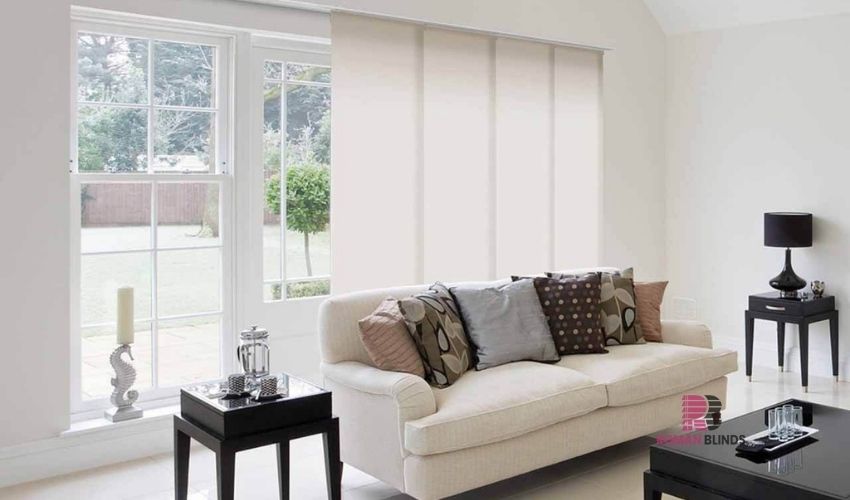 Blinds are always selected to give a modern, aesthetic, and charming touch to the interior decor of your home. Get those blinds that enhance the beauty of your interior and are perfect to give you privacy and other functions too.
Roman blinds are the perfect choice for this purpose. Because they come in a wide variety of colors, design patterns, sizes, fabrics, and textures, they give an aesthetic look to the interior with privacy and other features too.
5. Choose The Right Color
Choosing the color of the blinds can make or break the entire decor of your place. You must analyze your room completely and then decide about which color of blinds best suits the walls and furniture in your living room.
You can get roller blinds for that purpose because they have such amazing features that will blow your mind. They give a smart and stunning look to your living room. They are manufactured by using extraordinary and beautiful fabrics that can change the entire look of your home.
Roman blinds offer great versatility and come in an enormous variety of colors, patterns, textures, styles, and sizes that can blend with any interior decor.
Conclusion
After reading this article, you can now easily know how to choose the best blinds for your living room. We have discussed the top reasons for getting blinds for a living room and also told you which blinds would be best for that purpose.
Now it's up to you which blinds will fulfill your requirements and needs. If you want to get any consultation regarding this, then post a comment and we will help you solve the problem you are facing.