The vertical blinds came into existence in the 1980s, and they have maintained their position until now. These vertical blind styles give a classy and modern look to the interior of your room. Many people prefer to get these blinds because they are budget-friendly and the best at their performance.
Many types of vertical blinds are available on the market, and when you need to choose the best one, it will be a difficult task for you. To help you with this problem, we have prepared a guide for you in which we will tell you about the top 5 vertical blinds. We will discuss all these types from all the perspectives necessary for you to know before deciding.
Top 5 Vertical Blinds That Offer Best Functionality
We will discuss the top 5 vertical blind styles that well-known brands provide and guarantee quality products. All these blinds give top-notch functionality and enhance the beauty of your room's interior. So, without wasting time, let's look at these blinds one by one.
1. Generic Vertical Blinds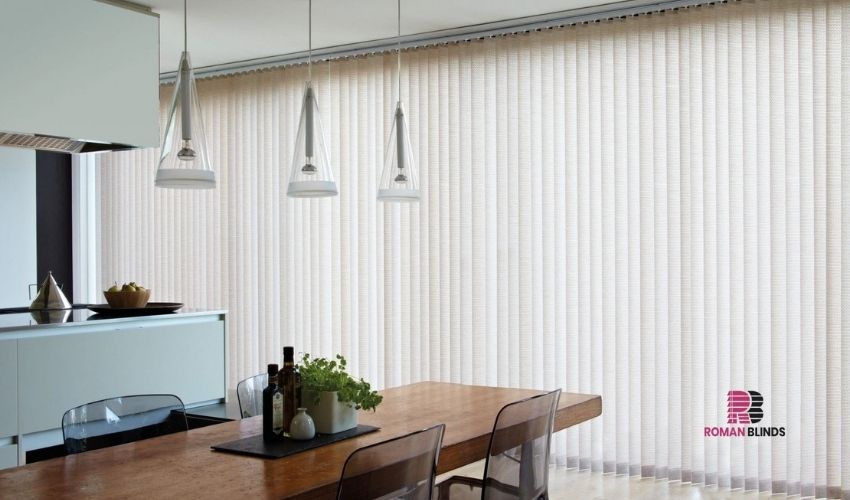 These window blinds are used to cover the large-sized windows and the patio and folding doors. They will give an extended and fantastic view when you place them in the interior of any room. You can easily maintain and clean them facing no hassle. You can install them in any area of your home, office, hotel, etc.
They come in two different categories: corded and cordless, with different mechanisms for operating them. If you have small children or pets at home, the cordless generic vertical blinds are an excellent choice. Its slats are so smooth and versatile that they can help in giving a modern, luxurious, and classy look to the interior decor of your home.
These vertical blind styles are the best at giving you complete privacy from outsiders and also give you the best control over allowing or blocking the light coming from outside.
2. Luminette Vertical Blinds
Luminette vertical blinds are also one of the best blinds that offer stunning functionality and a stylish appearance. These blinds are layered with sheer fabric to create a brighter and airy atmosphere and are designed in such a way that the slats are placed at the back and the layer of sheer fabric is placed at the front.
You can tilt the slats of blinds at an angle of 180 degrees in order to control the light and privacy. To achieve the best results, you can install them in front of sliding doors, large windows, glass doors, and patio doors.
You can get maximum privacy by closing the slats and covering the blinds with a layer of sheer fabric. This vertical blinds style will also help you get complete blackout functionality and restful sleep, even in the daytime. Not only this, they come in a wide range of styles and colors that you can choose as per your interior decor. They will take the interior of your home to the next level of luxury and modernity.
3. Cadence Vertical Blinds
We, being a well-known brand, offer Cadence vertical blinds with premium quality to our customers. We design these blinds in such a way that their slats give a curved view when you hang them in your room. Their unique appearance will help you add extra style and modernity to your interior.
They also provide soundproof functionality by reducing the noise coming from outside. If you live in a noisy area, like near the road, where you have to deal with the sound of heavy traffic, then you must choose these blinds. These vertical blind styles will help you get a peaceful sleep even if there is a lot of noise produced outside.
Cadence has a patented headrail design that blocks the eternal light when you close the blinds completely and also provides a smooth and flexible mechanism to operate them easily. They also come in a huge variety of designs and colors prints that you can match with the interior of your room. In short, it would also be a perfect choice for you to get the best functionality and aesthetic look as well.
4. Somner Vertical Blinds
Somner vertical blinds are famous for their styles, colors, and design patterns you can get and match with any type of interior. Also, hang them in front of any size and type of window. You can easily control the light and get the best insulation functionality as well.
These vertical blind styles can be installed on bay windows, sliding doors, glass doors and windows, any style of window, etc. They also help you get maximum privacy from the eyes of outsiders. They also offer soundproof functionality that helps you reduce the noise coming from outside, so you can get a peaceful sleep.
You can choose from many colors and design patterns that will help you enhance the beauty of your interior decor.
5. Vertical Solutions Blinds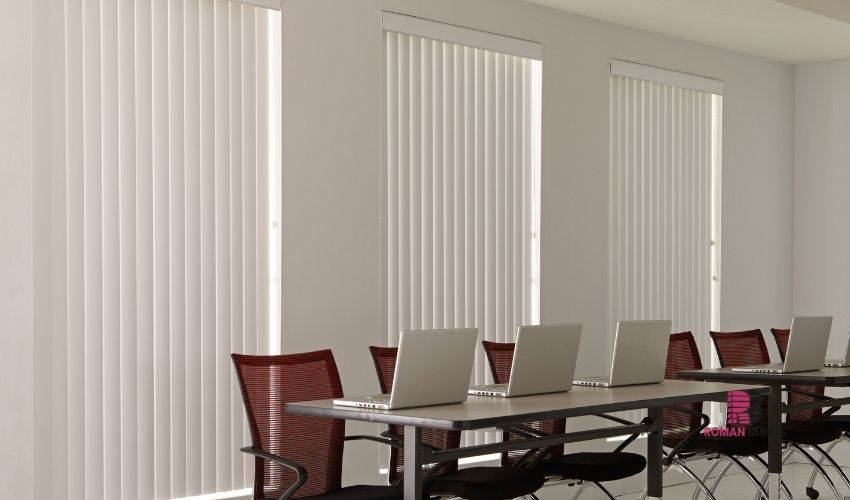 One of the best blinds for your windows that help you decorate the interior of your home with amazing and unique designs and styles is vertical solution blinds. These blinds offer a lifetime guarantee to give trouble-free operation. You can get them in fabric and in vinyl material.
They give a simple, decent, and modern look that blends with the furniture and decor of your interior. To reduce the intensity of noise coming from outside, Vertical Solution Blinds come packed with soundproof functionality.
You also get maximum control over privacy and light. You can open the blinds when you want to get the maximum external light and close them when you need privacy and blackout light functionality.
Conclusion
So, these are the top 5 vertical blind styles and types that will give you the functionality and appealing visuals to your interior.
We have discussed every aspect of each blinds and hope that now you can make the right decision while choosing the blinds to cover your windows or doors. If you have any other ideas about the best vertical blinds that offer all these characteristics, then you can share them with us by posting a comment.