Sliding patio doors are considered the best decor element that takes your interior design to the next level of modernity. They are the best choice for those who love to live in open spaces. They are specially installed to get the maximum light to come in.
Apart from getting a remarkable interior design from them, it is also a challenging task to choose the best window treatment for them. Most people want blackout blinds for patio doors but get confused when they come to where which blackout blinds would be perfect for them.
To cope with this problem in a better way, we have brought this article to you. We will discuss the top 5 blackout blinds for patio doors that are amazing and give a stunning look to the interior.
Let's Look At The Top 5 Blackout Blinds For Sliding Patio Doors
There are different varieties of blackout blinds for patio doors available for covering the sliding patio doors.
We will discuss the top 5 blackout blinds that are not only made for sliding patio doors but also look spectacular and make your interior design more modern/stylish. Without wasting time, let's look at them one by one:
1. Honeycomb Blackout Blinds
Honeycomb blinds come in a variety of styles, including blackout. Applying these blinds in front of your sliding door covers not only your door, but also adds an element of elegance and decency to your interior and gives it an amazing modern touch too.
These blinds would be the best choice for those who want a hybrid combination of classical and modern styles. You can get honeycomb blinds either made of a single fabric or double as per your preferences. They will offer complete privacy from outsiders and block the external light coming from outside.
2. Roller Blackout Blinds
Roller blinds are the most popular window treatment that is preferred by many homeowners. The blackout roller blinds comprise different fabrics, and each fabric offers different functionality as per its quality.
A lot of variety is available for choosing the best blackout roller blind for your sliding doors that can also help you decorate the interior of your home. Choose those that will blend in with the decor of your home while also providing privacy and better light control.
3. Vertical Blackout Blinds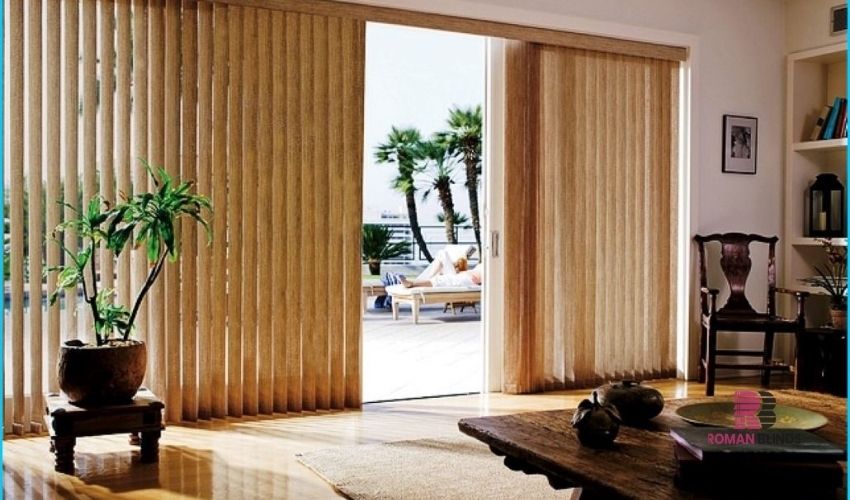 Vertical blinds also come in the category of blackout blinds for patio doors, which help you block the external light coming into your room. You can get them in different colors and designs that you can match and get as per your home's interior.
You can also get customized blackout vertical blinds as per your requirements to get better results. You can easily operate them by opening them to get maximum light and closing them to block the external light.
4. Roman Blackout Blinds
Roman blinds are also considered the perfect choice for many homeowners. They comprise the best blackout fabric that helps you block out the external light completely.
Apart from this, when they are raised, they create amazing pleats that look stunning and eye-catching to anyone. They comprise slats and are operated by using a cord or string.
5. Dual Blackout blinds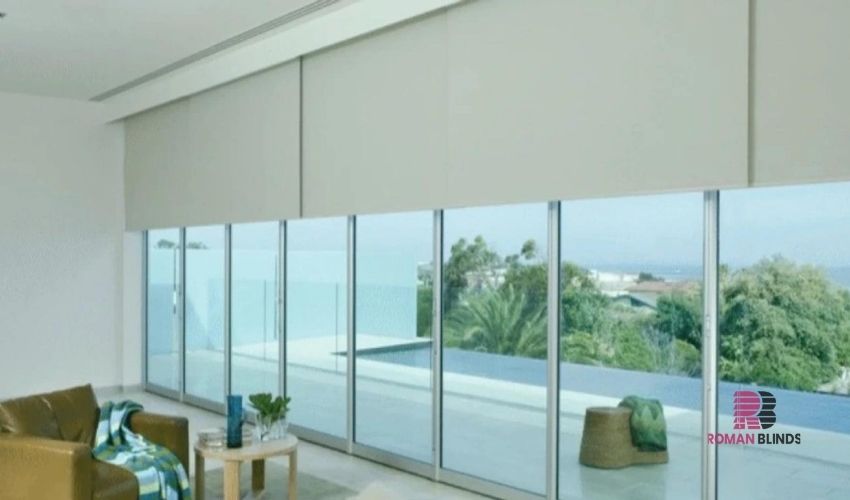 Dual blackout blinds are one of the most widely used and preferred window treatments for sliding patio doors. Unlike the common blackout binds, they comprise double-looped hybrid sheets of blackout fabrics.
These loops of blackout fabric help you block out the maximum light coming from outside. The best thing about these blinds is that they are not very expensive and you can get them at the same price rate as you get the normal blackout blinds.
If you are looking for the best decor element for your room's interior, choose these blinds as they blackout maximum light and provide the privacy you need.
Conclusion
So these are the top 5 blackout blinds you can install in front of the sliding patio doors. We have discussed every aspect of each blind, and now it's up to you to select the one that fulfills your requirements well.
As far as our suggestion about the best blackout blinds for patio doors is concerned, then the dual blackout blinds would be the best choice for you if you really want the complete blockage of external light and want to get privacy and peaceful sleep too.